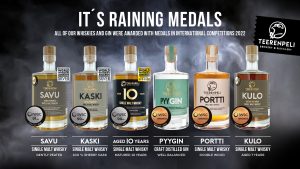 Teerenpeli Distillery started a new year as we ended the previous one: with medal rain. 🙂
Our whiskies were awarded with silver and bronze medals in International Wine & Spirit competition 2022. This is the same competition that awarded Teerenpeli Distillery as the Whisky Producer of the year in 2020. We entered with five whiskies and with our beloved PyyGin to the competition this year and all of them were awarded with medals. This kind of recognition with multiple medals is a proof of quality in general of our distillery whisky products, and we are really proud of it.
Just to make sure, the other significant competition, The Whisky Magazine´s own World Whiskies Awards awarded Teerenpeli Distillery´s SAVU and KASKI with silver medals. Our Aged 10 Years was awarded with gold medal as a category winner in the same competition. Isn't this a great way to start the celebrations of Teerenpeli Distillery's 20th Anniversary?
These awards are the best recognition to our distillers of their hard work and dedication. These medals prove that the chosen path is the one to follow.

Jaakko Joki, The Head of Distilling
You will find the IWSC 2022 tasting notes in our product pages.
Please have a look. The name of the product is the link.
SAVU, Gently Peated Single Malt Whisky
KASKI, 100% Sherry Cask Single malt Whisky
Aged 10 Years Single malt Whisky
PORTTI, Port Wood finished Single malt Whisky
KULO, Aged 7 years 100% Sherry Cask Single Malt Whisky
PyyGin, well balanced Gin