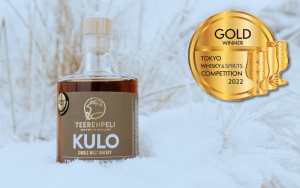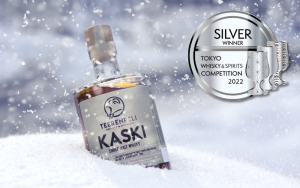 The Best of Tokyo Whisky & Spirits Competition is the largest whisky competition in Asia and the only one of its kind in Japan. In May 2022, at the TWSC22 event held for the fourth time in Tokyo, Teerenpeli's Kulo whisky won gold and Kaski whisky silver in the European whisky category.

The export direction of Teerenpeli to Japan is no coincidence. There are many similarities between Finnish and Japanese cultures. Both countries are driven by a quest for functionality, simplicity and sustainable beauty. Teerenpeli Panimo and Distillery's newest export country, Japan, the whisky culture is strong. Whisky is a very popular drink in Japan and Japan is the second largest producer of malt whisky in the world after Scotland.
–We are very pleased with the success of the competition, as the TWSC awards show the excellent quality of Teerenpeli whiskies. This is the first step in bringing Teerenpeli whiskies to the attention of Japanese consumers, says Mr. Igarashi a representative of Japanese importer Smile Co.
Over the years, Teerenpeli has collected a large selection of awards from international competitions. Competitive success is directly reflected in the company's recognition and, consequently, in business opportunities.
– Being named The World's Best Whisky Producer in 2020, the best Nordic Whisky win over Sweden and now the competitive success in Asia verify our reputation as a world-class whisky maker and opens doors to the world. In the last couple of years, exports have more than tripled, says Anssi Pyysing, entrepreneur and CEO of Teerenpeli Group.
During the spring, Teerenpeli Panimo ja Distillery's Kulo whiskey has also achieved three significant first-place finishes at the Swedish beer and whiskey fairs: at the Uppsala Beer & Whisky Festival in March, Kulo won the World Wide Whisky category and at the En Öl & Whiskymässa event in April in Gothenburg, gold came in the best Nordic Whisky All Categories and Single malt Whisky no age–12 YO.

The export volume of Teerenpeli has already happily exceeded the forecasts of both the importer and Teerenpeli. Currently, Teerenpeli's products are available in Sweden, Estonia, Latvia, Lithuania, Germany, United Kingdom, Belgium, Poland, Japan and USA.

Contact:
Anssi Pyysing
CEO / Entrepreneur / Teerenpeli
anssi.pyysing@teerenpeli.com

Teerenpeli is a Lahti based, innovative family business in the restaurant, distillery and brewery business owned by Anssi and Marianne Pyysing. The company consists of ten restaurants all over Finland and Teerenpeli Brewery & Distillery. Teerenpeli's turnover is over 14 million euros and the company employs more than 100 people. Teerenpeli Brewery & Distillery's products are manufactured using renewable energy.