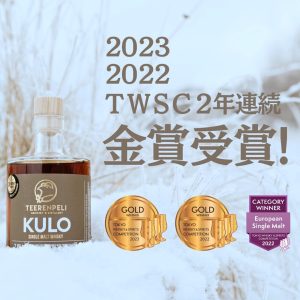 Tokyo Whiskey & Spirits Competition is one of the largest whisky competitions in Asia and the only one of its kind in Japan. Teerenpeli Kulo won gold and Aged 10 Years got silver this May, when the competition was organized for the fifth time. Kulo was awarded with a gold medal in the same competition also in 2022, when it won the "Best European Single Malt" category.
The whisky culture is strong in Japan, which is one of Teerenpeli Panimo and Distillery's main export countries.
– We are very pleased with the success of the competition, as the TWSC awards demonstrate the excellent quality of Teerenpeli single malt whiskies. This is a great way to introduce Teerenpeli single malt whiskies to Japanese consumers, says Mr. Igarashi, a representative of Smiles Co., the Japanese importer of Teerenpeli.
Over the years, Teerenpeli has collected a wide range of prizes from international competitions. Competitive success is directly reflected in the company's recognition and, consequently, business opportunities.
– Being selected as the Worldwide Whisky Producer at the International Wine & Spirit Competition in 2020 and gaining numerous awards for Kulo and our other single malt whiskies in Finnish, European and Asian whisky competitions have strengthened our reputation as a world-class single malt whisky maker and opened doors to the world. Over the past couple of years, exports have increased by 30–40%, says Anssi Pyysing, entrepreneur and CEO of Teerenpeli Group.
Teerenpeli products are available in Finland, Sweden, Estonia, Latvia, Lithuania, Germany, Great Britain, Belgium, Poland, Japan, USA, Baltic Sea ferries and Helsinki-Vantaa Airport.
Contact:
Anssi Pyysing
CEO / Entrepreneur / Teerenpeli Group
anssi.pyysing@teerenpeli.com +358 500 830 458
Teerenpeli Group is an innovative restaurant, distillery and brewery family business established in Lahti, owned by Anssi and Marianne Pyysing. The company consists of ten restaurants around Finland and Teerenpeli Panimo &; Distillery. The turnover of Teerenpeli Yhtiöt is over EUR 14 million and the company employs more than 100 people.  Teerenpeli Brewery & Distillery's products are manufactured with renewable energy. www.teerenpeli.com