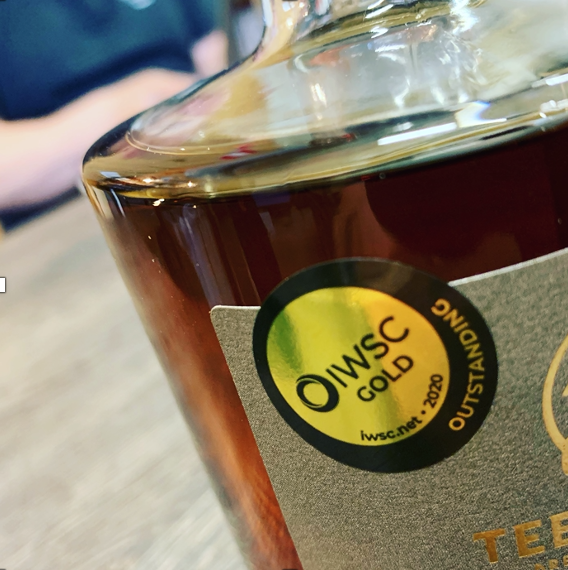 PRESS RELEASE
BULLETIN 11.08.2020
Free for publication
The IWSC victory accelerates the internationalization of Teerenpeli
Teerenpeli Brewery & Distillery from Lahti won a significant "Gold outstanding" award for its newest Kulo whiskey in the annual International Wine and Spirit Competition.
Kulo is a malt whiskey aged in sherry barrels for seven years, and it was launched by Teerenpeli last winter. It received 98 points out of 100 from the IWSC's extensive panel of experts. In addition to Kulo whiskey, Teerenpeli's other whiskey, Savu, also won a gold medal in the "lightly smoky whiskeys" category at the IWSC competition in London during the summer. In addition to the gold medals, Teerenpeli won three silver and one bronze medal in the competition.
Four gold medals were awarded to Finland, two of which went to Teerenpeli. We consider it a significant recognition of the work we have been doing in the field of whiskeys for years, says Samuli Korhonen, CEO of Teerenpeli Brewery & Distillery.
Whiskey has been distilled at Teerenpeli since 2002.
We have long believed in respecting traditions and the use of quality raw materials such as the world's best groundwater and malted barley in the manufacture of whiskeys. We are glad that they are also valued internationally, says Anssi Pyysing, CEO of Teerenpeli Companies.
This year's London alcoholic beverage competition is the largest in the world, with hundreds of products from around the world taking part. Teerenpeli whiskeys have been successful in the competition before. Teerenpeli whiskeys have also received international recognition in 2018, when Kaski whiskey won the "Double Gold" medal in the prestigious US competition. Teerenpeli has also won several first prizes at the annual Finnish whiskey festivals UISGE. However, international recognition feels especially good now that Teerenpeli is strongly striving for international growth, says Samuli Korhonen.
Success in such a prestigious and widely known competition facilitates international operations, as it increases the awareness of products and assures their quality.
Teerenpeli's products already have importers in Sweden, Germany and the United States. This year, Belgium and Luxembourg have joined the group. Negotiations are also ongoing with Russia and France.
The aim is to add 2-3 new countries per year and thereby multiply sales. There is enough capacity, because we have plenty of whiskey barrels ready, Korhonen says.
The award-winning Kulo whiskey will be sold in Alko starting September 7.
Further information:
Samuli Korhonen
CEO / Teerenpeli Brewery & Distillery
samuli.korhonen@teerenpeli.com
+358 40 861 1081
Anssi Pyysing
CEO / Entrepreneur / Teerenpeli Companies
anssi.pyysing@teerenpeli.com
+358 500 830 458
*****
Teerenpeli Companies is a Lahti-based, innovative family business operating in the restaurant, distillery and brewing industry, owned by Anssi and Marianne Pyysing. The company consists of ten restaurants all over Finland and Teerenpeli Brewery & Distillery. Teerenpeli Companies have a turnover of more than EUR 14 million and the company employs more than 100 people.